Your Training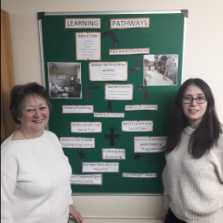 Whether you've worked in care for a long time, or you're totally new to care work, we will support you all the way with enjoyable home care training.
Moira our trainer (left) and Judy our training manager (right) make up our very friendly training team. They will welcome you into our company and your new home care role.
Both trainers made up this quick wall chart so that you can see the directions available to you when joining Eden Country Care as a home care assistant.
Our trainers will give you all the skills needed to provide the home care that are expected of all Eden Country Care team members and because we employ our own trainers, we can tailor your training to your own abilities, so don't worry about how academic you are or how little training you have had, what we can work with you. Remember, training should always be enjoyable.
After your initial induction training you will venture out into the community working alongside and learning from another home carer, what we call your shadowing period. Shadowing will last for up to 2 weeks. Your trainers are always on hand and contactable during this period and you will also strike up bonds with the carers that you shadow with so there is always someone on hand to talk to.
We actively encourage all new starters to ask questions and Moira and Judy will be delighted to hear from you. We are happy to run through anything with you, answer questions, demonstrate on-line or visit you on-site, send you training materials and reminders etc. We have a very supportive training team.
Once you settle into your new role there will be opportunities for further development and promotion, training courses and diploma 2,3 and upwards into management and leadership training.
Everyone is different. Not everyone wants promotion, not everyone wants to climb the Diploma ladder or carry out an array of training courses, but some people are very eager to access what is available.
Whatever path you want to follow in Eden Country Care, our trainers Moira and Judy will help you get there. You can design your own development pathway, a pathway that will suite you.
Every home carer in Eden Country Care will be given the opportunity to develop. If you have the right attitude and values and want progress, we can help you get there.
Fully regulated & approved by CQC
Inspected and rated
Good

See the report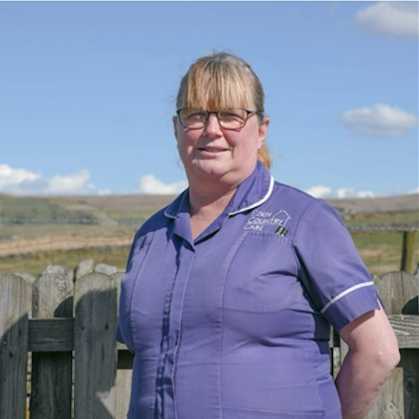 Hi, I'm Sonya
I've worked for Eden Country Care for over 5 years now. I joined the company after my daughter worked for ECC, she told me what a good company they were and I thought "I can do that". I'd never worked in care before, or even thought about it but I thought of it as a challenge and I'd like to think I'm kind and caring and I can talk to anyone.
I started out as a home care assistant, then 2 years ago I was promoted to Senior Carer.
So far I've carried out a long distance course in "end of life care " and now I'm currently doing my Diploma Level 3 in Adult Social Care.
I do love my job, in Alston we're a small team but a good team and we work together and communicate really well.
Our clients are amazing! Clients and their families really appreciate all we do for them and that in itself makes the job worthwhile.
I'd advise anyone thinking of doing home care to give it a go. I did & look how far I've come ?