Suitability Test
Take our quick test to see if home care is the job for you?
Answer YES to the following questions we would love to interview you.
If you answer yes to the following questions and you genuinely want to work as a home care assistant supporting mostly much older people - we would love to hear from you. Please contact us to organise your interview and you could be making a real and positive difference to your life and the lives of the wonderful older ladies and gentlemen we support.
Take our quick test...
Can you work every other weekend?
Are you a driver with the use of a reliable car for work purposes?
Do you enjoy driving?
Would you be capable and able to drive in the light, the dark and in varied weather conditions?
Are you looking for a new direction in life, a new career that's truly rewarding, something that makes a real difference to people's lives?
Are you a kind, caring, understanding and patient person - not only with customers in work but with the people you work with?
Are you self-aware and understand the impact of what you say, and do when working with other people?
Are you a very reliable and responsible person who behaves in a responsible manner in and out of work?
Are you someone who is not late for the start of your shift and someone who is only ever off work when there is a genuine reason?
Are you happy to train to learn new home care tasks and health care tasks?
Can you chat to all sorts of different people from differing backgrounds and put them at ease?
Would you be able to come across in the right manner to different personalities i.e. quieter, tender and slower for more timid individuals, cheerful and outgoing for others, a mix of both for most?
Do you have empathy and respect and enjoy the company of much older individuals?
Can you communicate in writing e.g. use a diary or fill in simple forms?
Do you think you can be a great listener and not take over conversations or talk over if people talk slower or quieter?
Can you contribute to conversations about varied and different things that clients are interested in - focussing on your clients at all times, placing them at the centre of the conversations?
Are you patient and could you encourage people to do what they can for themselves, rather than take over and take away their independence and tasks (in order to save time)?
Do you respect the privacy, values, attitudes, beliefs, way of life and life-style choices of other people - even if they are very different to yours?
Can you maintain confidentiality and professionalism at all times, avoid gossip, respect people's privacy and dignity - in and outside of work?
Do you have domestic common sense and high standards? Do you notice things that need doing? Do you naturally put things away, clean what needs cleaned, empty what needs emptied, change what needs changed and leave things as your clients would want them (and the way you would want them left if we were supporting your grandparents)?
Will you enjoy being out and about, working on your own as well as with other home care colleagues?
How did you do?
If you answered YES to the questions above we want to interview you
You have a choice of 3 ways to book your interview
Email the words Book my interview to sandy@edencountrycare.co.uk
OR
Text or WhatsApp the words Book my interview to 07803 574092
OR
Fully regulated & approved by CQC
Inspected and rated
Good

See the report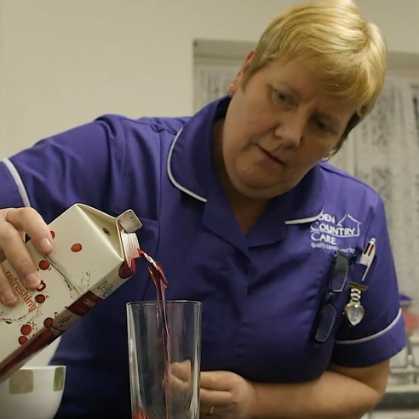 Hi, my name is Sally Stobbart
I have worked for ECC for over 12 years and joined the company after a brief spell in Woolworths.
I had never done care work before, but I thought "I'm sure I can do this."
After my interview I got the job straight away. I work in the beautiful town of Keswick in the Lakes.
I am now a Senior Home Carer and have a small but wonderful team to work with and some great clients - some of whom I've known for years.
I have done my NVQ 2 in Adult Social Care plus other courses on End of Life Care and Team Leadership and First Aid.
If you want a really rewarding career, then this is the one for you. "Come on! give us a call 🙂"