Apply Now
Take the first step joining the Eden Country Care team and make a real difference to the lives of the people we support, living within their own homes within our communities.
Alternatively call our recruitment team for a confidential chat about any of our opportunities on 07803574092 (standard mobile rates apply).
3 simple steps to interview
Step 1Complete our application form and click send
Step 2If your application form is successful we will send you some information and you will be invited for interview
Step 3Attend your interview. During COVID we are carrying out interviews via WhatsApp video call or you may prefer another video call provider such as Skype or TEAMS or Messenger.
After your interview
We inform you by email within 2 days if you have been successful or not. If you're successful you will receive a well done email and further information including your offer and training dates etc.
We also accept CV's
You can also send us an up to date CV enquiries@edencountrycare.co.uk
Apply By Post
Applying by post takes a little longer but if you wish to apply using a written application form contact us to request an application pack.
Email your name and address to enquiries@edencountrycare.co.uk or contact our recruitment team on 07803 574092 (standard mobile rates apply)
Complete our application form and return to the following address:
RECRUITMENT TEAM
Eden Country Care Limited
Unit 5A Redhills Business Park
Penrith
Cumbria
CA11 0DT
Fully regulated & approved by CQC
Inspected and rated
Good

See the report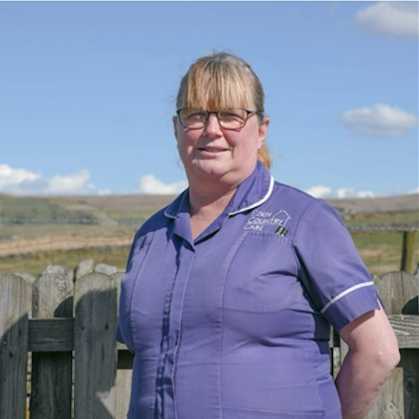 Hi, I'm Sonya
I've worked for Eden Country Care for over 5 years now. I joined the company after my daughter worked for ECC, she told me what a good company they were and I thought "I can do that". I'd never worked in care before, or even thought about it but I thought of it as a challenge and I'd like to think I'm kind and caring and I can talk to anyone.
I started out as a home care assistant, then 2 years ago I was promoted to Senior Carer.
So far I've carried out a long distance course in "end of life care " and now I'm currently doing my Diploma Level 3 in Adult Social Care.
I do love my job, in Alston we're a small team but a good team and we work together and communicate really well.
Our clients are amazing! Clients and their families really appreciate all we do for them and that in itself makes the job worthwhile.
I'd advise anyone thinking of doing home care to give it a go. I did & look how far I've come ?