Who We Are
Eden Country Care is a family run home care company with real family values. We are still owned and managed by the Tarney family today, 19 years after founder Erica Tarney started up her own home care service in 2002.
It all began in a small rural village called Asby, outside Appleby-in-Westmorland. Since then the company has grown (along with the Tarney family) and now we have around 130 carers working within eight area teams who provide top quality home care throughout North East Cumbria.
As a family-owned and run business we are in touch with our people, we have no big company boundaries and barriers, we know every client and treat them as individuals and we make sure they get the care that's right for them.
Where do we provide care?
We are home care specialists and offer support to people living within their own homes across East Cumbria. Our wonderful carers are selected from applicants living within local areas with good local knowledge. In rural Cumbria that's important - especially when the weather's against us and local knowledge is crucial. We now have over 130 home carers who've been professionally trained and supported to ensure everyone provides high quality, professional and friendly home care in the following locality teams:
Carlisle area
Brampton area
Alston area
Penrith area
Keswick area
Appleby-in-Westmorland including the Fellside area
Shap and Orton areas
Kirkby Stephen area
Why we are different to other care providers?
When looking into home care support either for you or your loved ones, it is important to think about whoever it is who requires support, what that person will enjoy and like, what that person needs and what our company can offer them.
Our overall approach to home care is very different because it stems from the fact we are such a local family business, we're trusted by our clients, we have rigorous carer selection process based on the personality of our carers and their attitudes and values to care, our teams are well trained, we have a flexible approach to what can be done for our clients, we offer comprehensive services, have extremely closely-involved managers and our people are proactive and always on the look out for any ways to improve care for our clients and we are very easy-to-reach and talk to.
Family Run - keeps us in touch with you
We are truly family run with a huge knowledge of care built up through different generations working in and around our home care business; as carers in the community; managers in the administration and accounts team; company directors, and of course our registered care manager. Close family involvement in the grassroots of our business allows us to ensure our home care service is personable, individual and friendly and our pride in our company ensures standards remain constantly high. We can effectively monitor the home care service our clients receive because we are in touch with our home care service at all levels.
Easy-to-talk to
We have a very welcoming, friendly, open door culture in Eden Country Care and effective communication on a daily basis helps us to maintain our high quality service. It's easy for you, or a client, a family member - or anyone who needs to talk to us - to get in touch with one of our managers. You are always welcome to contact us.
Fully Regulated - Peace of mind
We provide all our home care clients with a fully managed service that is regulated by the Care Quality Commission (CQC). After our last CQC inspection we were found to be providing an Outstanding and GOOD home care service for all the following categories:
Are we safe?

GOOD

Are we effective?

GOOD

Are we caring?

GOOD

Are we responsive to people's needs?

OUTSTANDING

Are we well led?

GOOD
Well Trained Home Carers To Meet All your Needs
From time to time your home care needs may change. You can relax knowing that your home carers are fully trained by our fully qualified home care trainers to ensure that new carers are confident in meeting all of your needs.
First of all we select new recruits based on their personality because we believe that to be an Eden Country Care home carer the individual has to be kind, trustworthy, patient, understanding, tough but at the same time soft, caring, a good listener, reliable, able to communicate to people of all ages and respectful.
Once selected our new home care colleague undergo a full weeks home care training followed by 2 weeks shadowing alongside an experienced carer.
Should your care needs change over time your carer will be fully trained and coached by our locally based managers and trainers to ensure that they are fully confident in meeting all of your needs.
If you have any enquiries about our service please email enquiries@edencountrycare.co.uk
Fully regulated & approved by CQC
Inspected and rated
Good

See the report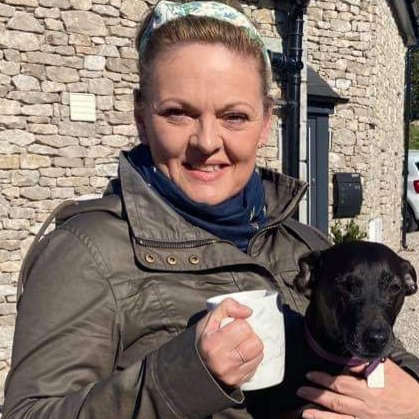 Hi there, I'm Cynthia or Cyn as most people know me.
I joined ECC over 2 years ago and in recent months have taken the role of senior.
This is me enjoying a brew with my buddy Nancy on our weekend off.
After spending my whole working career in the retail industry and my last position lasting over 20 years.
I had come to a point where it was time for a change and redevelop my skills.
Never doing care work, I was nervous, but I had my communication skills.
I completed the induction course and with the support of the Kirkby team, I was soon out working on my own.
I love working independently, but also as integral part of a team. The opportunities are endless and have recently been offered a fully funded level 3 diploma in heath and social care.