Our Story
Hello My Name Is Erica Tarney, founder of Eden Country Care.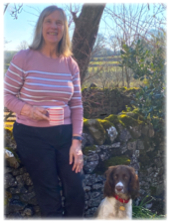 Thank you very much for visiting our website today.
You will see from our webpages that Eden Country Care provide care for elderly and disabled people within their own homes for many years. So I would like to talk to you about how we first set up the company and the challenges and hurdles I faced in the early days, as well as the many ups and some of the rare downs of the job of being a care worker.
I also wanted to tell you a few stories about the lovely people we have cared for over the years.
But my story starts back in 1998.
It was about 7 am in the morning and drizzling. I was standing in a field on a farm on the fellside, out in the countryside, somewhere near Dufton. I could feel my shoes sinking deeper and deeper into an oozing mix of mud and manure and I stood there running a hose pipe into a cattle trough. I was wondering firstly, how I was going to get out of the mud that was slowly creeping inside of my trouser leg and secondly, whether watering cattle had actually been in the job description.
Only a few weeks earlier, myself and my husband Paul had made the decision that we did not want to spend our twilight years in Preston and so we moved to Great Asby - with vague thoughts of retirement in an area we both loved and often visited to walk the fells. But work was the problem. Paul was able to get a transfer with his job, but I struggled to find anything at all. My background was secretarial work, but whilst my children were young I had been a self-employed childminder.
The only work I could find was with a home care organisation as a care worker. This did not start well!
On the day of the interview the roads were flooded and I could not get through the flood to Kirkby Stephen. I remember thinking 'they must think me a real townie not being able to get an interview because of a bit of water.' But despite this set back they gave me a second chance and following the interview I was offered the job of a "home carer".
On the first day I went along to the home care office where I was given a box of gloves, a uniform and a list of names and addresses.
Training was not considered necessary back in the 90's as care worker was considered to be the natural role of all women in those days.
The first problem I encountered on that day was finding my way around, especially to some of the remote farm houses. But somehow I made it though the day and was so proud of myself to have managed to help an elderly farmer get washed and dressed. As I was leaving, I politely asked whether there was anything else I could do for him and he replied "aye lass, tha could watter cattle fer us." So tramping through to the back of his garden and into a field I found the watering trough and the hose pipe and with an audience of wide eyed cattle I started to fill up the trough - that's when I realised the sodden earth was slowly sucking up my feet.
Despite the mud and manure and my new fears about whether this job was what I really wanted - I managed to get cleaned up and on to my next client. This was a couple in their eighties still running an entire farm on their own. After I had helped the lady with personal care she insisted that I shared some tea and cake with her. Whilst she regaled me with stories of Cumbrian life I glanced through the window and saw her husband tramping through fields with his dogs carrying a bale of hay on his back that seemed larger than him. Soon I became a regular visitor to this lovely couple, but there was one thing I came to dread about the visit and that was their farm dogs.
I have always been a bit nervous about strange dogs; despite loving them and having dogs of my own. Every day, as I walked nervously down the lane, they would growl threateningly at me and bare their teeth and then I would have to face the same ordeal as I left. But eventually I got a bright idea, I would have a few broken biscuits in my pocket ready to give them a "secret" treat. This did the trick and soon they began wagging their tails on my arrival - much to the bafflement of the farmer.
During my time working within my first care company, I often felt people deserved a better service than the one they were getting from my employer. Things were changing and instead of being managed locally with local leaders we began to be run by an anonymous group of people based miles away in Kendal and Carlisle who did not know the Appleby area, the local people or the staff. We did not have anyone local to talk to, the company was far too big and the managers worked in distant towns and were difficult to get hold of.
Soon mistakes began to happen and many of the staff including myself became increasingly frustrated at the poor organisation of the company we worked for. The expectations and needs of the people who used the service were also changing. People wanted to make their own choices. Many more people didn't want to go in to a care home, preferring instead to stay in their own homes rather than spend years in residential establishments at the end of their life.
When the government began to look into home caring, they realised that not only was this beneficial to peoples physical and mental health, it was also less expensive for the state. A large percentage of the people we look after today have memory problems, but it is well known now that people will retain their individuality much longer if kept in familiar surroundings within their own homes.
It was also realised that with a few adaptations and well organised assistance, even people living with the most serious disabilities could remain at home; with the right support. So this shift in expectations led to increased demand in both quality and quantity of home care being delivered and placed an increasing strain on a rather over stretched County Council Provider as demand increased.
The County Council at this time followed the lead of many other local councils and began charging the service users for each of their calls and this caused much consternation of course.
One of our clients who suffered a spinal injury and became paralysed at the age of 25 had a long and bitter fight to stay in his own home and receive the care that was necessary. You can imagine his feelings when he was told that he should consider himself "lucky" to be at home and there seemed to be an implied threat that this support could end at any time. Sat in his wheel-chair and paralysed from waist down - he told me later that he couldn't quite understand how he was supposed to be "lucky."
After 5 years of working for my first care employer and working through this period of turmoil I decided I had had enough and handed in my notice. In some respects I was very sad, especially at the thought of losing touch with all the lovely people I had come to know. In my last few days I said goodbye to them.
After some time and a lot of deliberation I decided to start working again for a small number of local people. I thought this would do me until retirement with just a few local folk to look after. But then a carer I knew from my previous company, Maureen asked if she could join me. She was an excellent carer and so I said "yes, we could do this together and both be self-employed", but she wasn't keen on the idea of being self employed, the risks,the responsibilities, tax returns and all the paper work - so I said to her " ok then, I will employ you".
I had absolutely no idea of the future implications of these words! I had no notion of the breadth and depth of legislation that these words brought into play. I hadn't a clue about the liability implications or the responsibilities implied. But over the years, with increasing numbers of employees, I was to learn fast!
Maureen joined me and soon people contacted me as word spread and demand grew. I have to say, not everyone was behind our new venture, and I received criticism from some managers working for my old company who thought we were "a silly group of women who couldn't possibly succeed."
This, of course, proved not to be the case and soon my old company found they were unable to provide a service managed from out of the area in some areas of Eden areas where we lived. The social services managers turned to us to fill the breach and rang me to ask if we could carry out calls, sometimes at very short notice.
However, to officially work for social services you have to become "an approved provider". This involved much beaurocracy, but it had to be done and it did focus my own mind on our objectives. What did I want the service to do? How was our company going to be different, what was important to the people we looked after? So with a lot of help from family members, I set out the first framework for Eden Country Care - that we would be reliable, really flexible provider of home care for local people, and give a quality service to 'local people with local staff.'
After setting all the details out in writing I went along, (quaking in my boots), to the Adult Social Services Head office in Carlisle to be grilled by panel of social service managers. This was a gruelling 2 hour meeting in which I was quizzed on my values, my beliefs and motivations. All our paperwork was also scrutinised and examined to make sure we had the correct insurance, financial backing and all the documentation that would make our company legal.
There followed a nail biting few days until I finally got a letter to say that we had been approved.
But before going any further with this talk about the business and paperwork…
Did I mention a very special person who joined me right at the start of the business and was a main stay in the early days of Eden Country Care. Diane W, who some of you living in Westmorland will know, is a real no nonsense, dyed in the wool farmers daughter.
Diane was a formidable carer. She is known for example for her unparalleled ability to get stubborn old farmers to have a bath when all other attempts had failed.
I remember one very old farmer who used to live with his son, refused all my attempts to have a wash in the morning. He would come up with all manner of excuses, saying "farmer's wesh at neet luv" even though I could never see any evidence of him having ever had a wash the previous evening! However, Diane would go in with her brisk, no nonsense farmer style manner and my farmer client would be like a meek little lamb with her and not hesitate, she would even get him to change his clothes!
Diane also never ceased to amaze me with her knowledge of the places and the people in and around Appleby. Social workers would ring up and ask whether we could help a lady in Appleby and Diane would know immediately who the lady was, what her background was, and who her family was and where they lived! They were always very impressed.
In the 10 years Diane worked for us she has never had one single day off sick, the farmers way of thinking in her made her a little impatient with staff members who regularly took sick leave. But Diane cared deeply about the elderly in our area and I think this drove her commitment and incredibly high expectations. One winter, during a long power cut in Appleby, Diane prepared flasks of soup and then took them around her clients, she even went to other elderly people she knew that she thought might be struggling. Diane became a senior carer then a coordinator organising the rotas, overseeing care at first hand. Sadly Diane no longer works for us but we all remember her and if you are reading this Diane, thank you for everything.
Following Social Services approval, everything became a bit of a blur as our work load increased dramatically and we were all working extremely long hours, seven days a week just to keep up with demand. Also at this time not only was I doing care work, I was also responsible for all the paperwork, care plans, invoices as well as having to pay staff. Maths was never my strong point but a very nice man from the tax office came to visit me at home and gave me the idiots guide to pay roll!
In those early days I paid staff their wages in cash into envelopes. Cash flow at that point was also very tricky and I had to regularly draw into my own savings and the family savings to pay people. Because of the huge responsibilities failure wasn't an option, so I always tried to stay positive, no matter how precarious things sometimes seemed.
Just as I thought I was making some progress another big hurdle arose.
Many small care companies had started up throughout the country due to the increased demand. The government decided regulation was required and set up the "Commissions for Social Care Inspection "they announced that all care providers must register with them and be approved by them if they were to operate at all.
To achieve approval we had again to set out in great detail the vision and aims of our service users? How we were going to ensure their safety? How we were going to train our staff? And so on, and so on, and so on. This meant we had to define our policies and procedures and had a list of them as long as your arm.
Fortunately, my daughter Heather had just finished her degree (she too had been working for the company at weekends) and Heather became a major contributor to these policies. Paul too decided to throw his lot in with me and left his job to take over the wages, invoicing and all the other administration duties. This was a great relief to me, especially the wages which I detested doing, often getting in a muddle with the lengthening list of employees.
With Paul and Heather joining this allowed me time to work on my presentation to the government officers and I read up on all the laws and regulations that I had to comply with. We often wondered if the risks, the pressure and stress was worth it, but by this time there were so many people relying on the company surviving, clients and our small number of close nit employees, it spurred me on to face the panel and do my best …. Or worst!
The day dawned and I went along to their office in Penrith. The panel of inspectors turned out to be quite human and I soon felt relaxed enough to be able to answer their questions quite confidently. Following our successful registration and with my family firmly behind me, I began to look forward to further developing our company and providing a good service to our community.
The Inspector Arrives!
A year or so after this, it was business as usual one Monday morning - my husband Paul answered a firm knock on the office door. On opening the door he found a tall, stern looking women with short blond hair. He noticed she was holding a brief case and was dressed all in black including knee length patent boots. She said "hello, I am from the Care Quality Commission" "oh" Paul said, "I don't think we were expecting you". "No" she replied, "that is why it's called an unannounced inspection". Paul came into my office looking rather pale and introduced her to me.
A wave apprehensive swept over me as I thought of all the things I should have done and hadn't…. and all the things I had done and shouldn't! But putting on what I hoped was a calm exterior, I offered her a desk to work from as she delved through all our files.
"Detective" was the description that came to mind as she checked several clients files in great depth. Did they have comprehensive up to date documents such as a care plan, risk assessments, safe method of working, all medication paperwork? She also selected a list of clients, they had all been very happy with our service and we hadn't upset them in any way! We had already supplied her office with a full list of clients and staff and they were busy sending out questionnaires (that could be completed anonymously) asking about the service they received from us.
At the end of the third day she called Paul and I to a meeting. She said she had new completed the inspection and would be making a report and on the basis of this we would receive a rating. The ratings in the early days were either "poor "adequate" "good" or "excellent" we couldn't resist asking her if she could let us know what rating we might expect. But she said although she couldn't pre-empt the report, she could tell us that they had not received a single negative comment about our company either from the clients or the staff!
It is difficult to describe the feelings we had at that our first inspection. Building a business is a bit like having a child, you care for it preciously and do everything you can to make sure it succeeds, but when it is officially confirmed that you have been getting it right it makes you feel quite exhilarated. We waited eagerly for the inspection reports and we were not disappointed. We received an excellent in every category of inspection and of course this resulted in an overall rating of excellent.
Since those early days practice and business standards care organisations must achieve have reached heights we could not have expected. The joy over the years of developing a business like ours though, was so much about the day to day experiences both good and bad with our clients.
I remember one elderly lady who told me that she came to the area as a land army girl, then trained as a teacher and never left the Eden valley. She was now much older, frail and almost blind and lived on her own with her two dogs, both elderly themselves and almost as lame. However, she had a wry sense of humour. One day she told me that when she was a young women nobody was concerned that her kitchen was a mess, but now that she was old and had a messy kitchen they wanted to put her in a home!
Her kitchen was chaotic though and her eye sight didn't help. Once she asked me to get a quiche out of the oven. I lifted out the brown earthenware dish that smelled lovely. Then I noticed some letters on the front of the dish which spelled out D O G. I also used to see mice on the kitchen table, but when I mentioned this to her she would say "yes, they are rather sweet aren't they, I always try to save some of my breakfast for them!"
But we really hit it off this lady and myself and she would often reminisce about her younger days when she would go to the theatre. One day I suggested that I accompany her to Keswick theatre and she jumped at the chance. Paul and I called for her at the appointed time and the carers had helped her dress for the occasion and she opened the door looking a million dollars. We took her to see a musical and in the interval Paul politely asked her if she wanted a drink. Paul thought she might like a cup of tea or a small sherry. "A double whiskey on the rocks please" she replied much to our amazement! We dropped her off at home later and I will always remember what she said "thank you for making me feel like a real person again."
Over the last ten years, our company has grown steadily. This has meant much more organisation and administration and other family members have been roped into the family business :-)
Most of my family and their partners have worked or now work for Eden Country Care, either in the office or as carers. We often reminisce about the early days when we got our first computer and the office was our 8' square dining room. We then went on to convert an outbuilding but soon outgrew that too and had to extend the office into our holiday flat and jumped up to 7 computers.
We now have over 140 employees working in the Eden area from Carlisle in the North down to Kirkby Stephen in the South, Alston in the East and Keswick in the West. Appleby was where it all started but from those early beginnings we now have 8 teams (Carlisle, Brampton, Penrith, Alston, Keswick, Shap, Appleby and Kirkby Stephen). And unlike in my early days as a carer, all our new carers in all our areas receive a comprehensive induction training course.
During the years developing the business I decided I needed to improve my knowledge of health and social care and undertook a part time degree with the Open University.
Attaining the degree in 2009 enabled me to carry out not only the training better but also the day to day running of the business as a whole. Having the degree also gave me more confidence in dealing with the social service managers, county council and NHS officials.
All our staff are trained in correct manual and handling procedures with equipment (such as a powered hoists etc) equipment which we bought especially for training purposes. This is now essential training as many of our clients are too frail to stand and have to be transferred from their bed to chair using hoists, stand aids etc. Even so we still manage to assist clients and support them through the day and keep them safe in their own homes.
On the subject of training, it is not just the care staff that require this. From time to time myself and other management staff needed to attend courses and on one occasion I went along with two colleagues Lynsey and Julia to a training course in London. The course was about developing our skills in leadership and management. Everything seemed to be in hand, train tickets and accommodation booked, bags packed. We began our journey with confidence, although after a day in our office we would only be arriving in the late evening. But once in London I strode ahead (instilling I hoped, confidence in my team!) and hailed a taxi to our hotel (booked last minute on the internet because it seemed conveniently close to the station).
The cab drew up outside a shabby, dilapidated looking hotel, on the steps was a very unsavoury looking character smoking a cigarette. On entering the hotel I noticed the floorboards were bare, not the natural shabby chic looking floorboards that are rather fashionable now, but the sort that really ought to be covered by a carpet. An unkempt man behind a grubby enquiry window gazed disinterestedly out at us and took payment for our bookings. I was seized with a sense of foreboding as he took us down to the basement of the hotel. It was now 10.30pm and I was becoming seriously concerned, a thought flashed through my head that we were going to be sold into "white slavery" (my mother having warned me about this as a child!) and I would never see my family again!
On entering the room I immediately noticed the discoloured curtains limply hanging from the sagging rail and the bed without a headboard and the linen that was none to clean. The toilet had also seen better days (I won't go into details) and I decided immediately, that even if we had to sit on our suitcases all night at Euston station it would be better than this. I returned to the desk and demanded a full refund (in what I hoped was my best leadership and management style). I must have looked quite threatening because he meekly gave me our refund without question. Soon we were walking the streets of London past some very scantily dressed young ladies at 11pm with no promise of anywhere to stay. (I was thinking so much for my leadership and management skills!). However, undaunted we eventually managed to get a room at a nearby Travel Lodge and went off in search of a restaurant as we had not yet had dinner. Luckily a curry house nearby ushered us into their warm restaurant and we sat down anticipating a nice meal and a glass of wine.
"We only offer soft drinks" said the waiter and seeing our reaction (aghast looks all round- well it had been a hard day!) he kindly offered to go to the Off Licence and buy wine for us all. After the meal we returned to our hotel quite late and only got safely to sleep about 2am. We met at 7.30am the following morning and still had to get to our course about 40 minutes away by train. After consulting the maps and several employees of British rail, we headed for the underground. There we approached a rail official and asked for directions to our train. Unfortunately, he couldn't seem to understand our Northern dialect and neither could we understand his cockney twang. Eventually, he led us along all the way through the station to the right platform, but we were then horrified by the way people were crammed into trains like sardines. When our train arrived Lynsey and I forced ourselves on the train, but Julia ended up in the position of being half on and half off the train as it started to move, we launched forward grabbing Julia and just in time managed to get her through the folding doors and into the safety of the carriage! Those northern ladies were all very glad to get back home safely that night.
Once home I quickly discovered that our original hotel had been located in the infamous red light district at Kings Cross and was probably the sort of place ladies of the night would bring their clientele. The staff at the hotel must have looked at the three of us and thought that they were in for a busy night!
Set Us Apart
Although the business continued to develop and grow rapidly we still wanted to set it apart from other domiciliary care providers by keeping the personal touch. Every year we held a Christmas party both in Asby and in Keswick. We still hold Christmas parties and to day they are a great occasion for carers and client to get together and let their hair down playing silly games and listening to an entertainer. We organise transport so that no one is left out and organise a local catering firm to deliver tasty sandwiches, treats and cakes. One year, one of our male carers, Russell, who has a great singing voice gave us a song or two at the party and I know his main clients just loved it and even wanted their photos taken with him.
On a more serious note, I did want to mention some of the more sensitive work our carers have to do.
More and more care providers like ourselves are being asked to support people at home who are increasingly frail and close to the end of their life. Some new recruits can be quite shocked by this and will ring us and say this person should be in hospital. But as during life - choice and autonomy are very important - values that should be respected. People nowadays talk about having a "good death" this may mean that the dying person's wishes were granted, for example, dying in their own home with their family around them. Therefore, if someone wishes to die in their own home then we should show respect and honour their wishes.
Unfortunately, most people would prefer to die in their own home but there are still many who do not. There are many reasons why people end up dying in hospitals instead of in their home. Our ever growing aging population often means that an old person is either living on their own or living with another older person. This can sometimes mean that there are no networks of support to help this person return home. Sometimes people have full time jobs which prevent them from caring for dying relatives. Of course there is also the emotional dilemma. Some families may find that looking after someone who is dying is too emotionally distressing. Another reason that people may be admitted to hospital is the inability to control the symptoms and pain of the disease. Of course some people are admitted to hospital for treatment and unfortunately do not respond and die whilst they are there.
Over the years, we have formed closer links with the community nurses this often allows a dying person a responsive team that can attend regularly and in conjunction with partners (Macmillan nurses, hospice at home, doctors and nurses etc).
No matter what condition our clients might be in, with memory loss or emotional and physical difficulties and challenges, they are still individuals who deserve to be treated with dignity and respect.
Today
Erica Tarney has retired as Registered Care Manager but is still a company director. She and husband Paul are both board members and are now enjoying their well earned retirement walking the fells and living the life they both dreamed of when the family lived in Preston all those years ago.
Daughter Heather Tarney is now Registered Care Manager and has successfully run Eden Country Care for nearly 10 years supported by brothers Richard and Dan Tarney, also company managers and board members.
Heather, Richard, Dan, Paul and Erica make up the Eden Country Care Limited Board of Directors.
Eden Country Care is still family owned and run, employs over 150 people, has 8 teams, is CQC rated Good and Outstanding and remains proud of its enviable reputation for providing top quality home care across most of North East Cumbria.
Fully regulated & approved by CQC
Inspected and rated
Good

See the report