What To Do Next
If you are paying for your own care…
So… you have gathered information about our home care services, you want Eden Country Care to provide home care for you or your loved one - what do you do next?
Firstly, contact our office and inform us that you would like to proceed and arrange home care. Before your home care can start, we will contact you to arrange a home visit to meet the person who requires support (and loved ones they would like present) to carry out a care review.
At your care review we would like to learn more about you; what medication you take; what health conditions you already live with; what support you need and what you would like to be able to do; what goals you may have for the future and your personal preferences (you may like your drinks made a certain way or your bed made a certain way etc etc).
We also like to listen to a little of your life story so that your new carers know a little about you after reading your care plan when they first visit.
You will receive a price and a start date for your home care once one of our care managers have visited you at home to finalise your care plan and double-check we have everything covered.
Our care managers are experienced home care professionals and really enjoy meeting new clients, they're expert in making everyone feel relaxed and at ease. So please don't worry about carrying out your care review, you will probably enjoy it.
If the council are paying for your care…
Arranging home care ideally starts with getting an assessment of your care needs by your local council, this is called a care needs assessment and details what help you are eligible to receive from adult social services.
You will also be given advice and information on your options. There's no charge for this and you're entitled to one regardless of your income and savings.
If you would like Eden Country Care to provide your home care please inform your Council Care Needs Assessor. If you live within our service area (see Our Areas page) your Council will contact us to arrange for our team member to come out to meet you. We will then carry out a care review with you in your own home, confirm your home care start date and answer any questions you may have.
What if the Council say I cannot have Eden Country Care?
The Council have specific home care companies that they refer people to for certain areas of Cumbria. Our area If the council say that you cannot have care provided by Eden Country Care because you do not live within our service area you may still want to have our home carers.
To be able to still have Eden Country Care home carers, even if you live out of our area, you can choose something called direct payments or personal budgets. These are regular payments paid by the council directly to you or a person you trust and allow you to buy and arrange your own care. Simply ask the council assessor if it is possible to organise this.
Eden Country Care have a number of direct payment and personal budget clients already who have chosen to receive care from us.
We're here to help you.
If there is anything further you would like to discuss about setting up your home care please contact our friendly team.
Fully regulated & approved by CQC
Inspected and rated
Good

See the report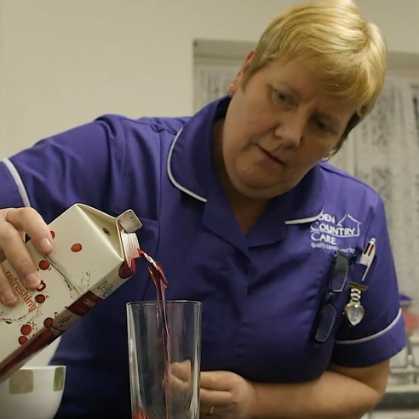 Hi, my name is Sally Stobbart
I have worked for ECC for over 12 years and joined the company after a brief spell in Woolworths.
I had never done care work before, but I thought "I'm sure I can do this."
After my interview I got the job straight away. I work in the beautiful town of Keswick in the Lakes.
I am now a Senior Home Carer and have a small but wonderful team to work with and some great clients - some of whom I've known for years.
I have done my NVQ 2 in Adult Social Care plus other courses on End of Life Care and Team Leadership and First Aid.
If you want a really rewarding career, then this is the one for you. "Come on! give us a call 🙂"