Our Areas
Eden Country Care have 8 local home care teams including:
Carlisle Team
Brampton Team
Penrith Team
Alston Team
Kirkby Stephen Team
Appleby Team
Shap Team
Keswick Team
Each team covers villages and hamlets within it's surrounding area.
As you can see we cover a large area of Eastern Cumbria so whether you're looking for long sit-in calls at a remote country cottage or shorter support calls in a bustling city, town or village, we can help you stay in the comfort of your own home.
If you are wondering if we can provide home care where you live then please contact our friendly team.
Fully regulated & approved by CQC
Inspected and rated
Good

See the report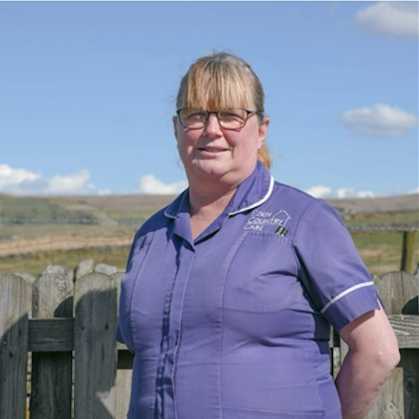 Hi, I'm Sonya
I've worked for Eden Country Care for over 5 years now. I joined the company after my daughter worked for ECC, she told me what a good company they were and I thought "I can do that". I'd never worked in care before, or even thought about it but I thought of it as a challenge and I'd like to think I'm kind and caring and I can talk to anyone.
I started out as a home care assistant, then 2 years ago I was promoted to Senior Carer.
So far I've carried out a long distance course in "end of life care " and now I'm currently doing my Diploma Level 3 in Adult Social Care.
I do love my job, in Alston we're a small team but a good team and we work together and communicate really well.
Our clients are amazing! Clients and their families really appreciate all we do for them and that in itself makes the job worthwhile.
I'd advise anyone thinking of doing home care to give it a go. I did & look how far I've come ?